Visa Platinum
Visa Platinum is the premium class card.
The Visa Platinum card shall provide you with insurance coverage, help while you are resting in abroad and provide opportunity to get unique discounts available only for Visa Platinum cardholders.
The Visa Platinum card of the "Optima Bank" shall provide you with maximum comfort, peace and even more self-reliance.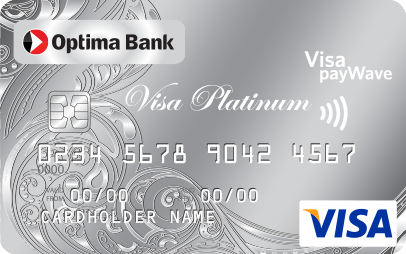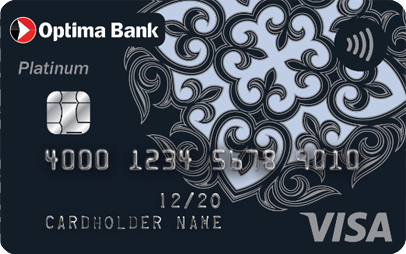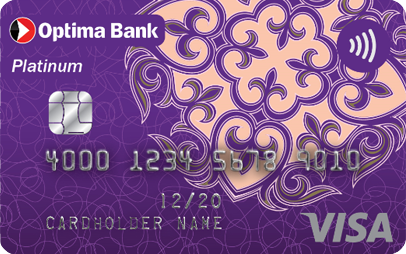 The Visa Platinum card guarantees you to be in comfort, receive prompt service, financial freedom as well as the following exclusive advantages:
GCAS - Global Customer Support Service:
1. Blocking of lost and stolen cards (cardholders are supported 24/7 all over the world);
2. Emergency cash withdrawal (cardholders can withdraw 270,000+ anywhere around the world);
3. Emergency card replacement (Temporary card is delivered within 1-3 business days to anywhere around the world);
4. Questions of cardholders (A cardholder can receive answer to his question regarding how to use VISA cards around the clock, anywhere in the world).
International medical and information support for travelers:
1. Medical telephone advice;
2. Calling a doctor;
3. Information on vaccination in the country of destination;
4. Information about health care institutions in the country of stay.
Impressive discounts and other offers from local partners and partners around the world – get special offers, discounts, promotions simply by making payments using the VISA Platinum payment card (www.visapremium.com).
Purchases protection program – provides for insurance against loss, theft, accidental damage of the goods within 90 days from the date of purchase;
Extended warranty program – provides for additional warranty period lasting up to 24 months in addition to the manufacturer's warranty period (www.cardholderbenefitsonline.com);
VISA Luxury Hotel Program covers more than 900 best hotels in the world, specially selected for VISA Platinum cardholders. By visiting the best hotels you get a number of pleasant advantages (www.visaluxuryhotelcollection.com):
1. Best Price Guarantee;
2. VIP guest status;
3. Late check-out;
4. Daily continental breakfast;
5. $25 voucher for drinks or food;
6. Upgrading a room category at the time of arrival
Escorting at airports on arrival/departure;
Lounge Key - access to the network of business lounges at airports around the world (www.loungekey.com/visacisseeloungeprogram);
Free withdrawal of funds up to 500 (five hundred) USD a year.